Body Plaza Europe would like to introduce this salon to you :
Beauty Salon Essy's Beauty
Essy's Beauty is the beauty salon in Steensel led by Esther Maas. 

Her salon space is decorated with the themes of nature, animals and scenic tranquility. 

This is the ideal environment for her to carry out the many modern treatments herself. 

She has developed her own vision and theories of beauty and treatments. 

The starting point is acceptance of your own body and the strength of the body to keep itself healthy. 

"You are beautiful when you are happy with yourself, even if it is not perfect. 

Beauty care is not done for someone else, but for yourself. 

It is also a nice moment for yourself and that is just as important. "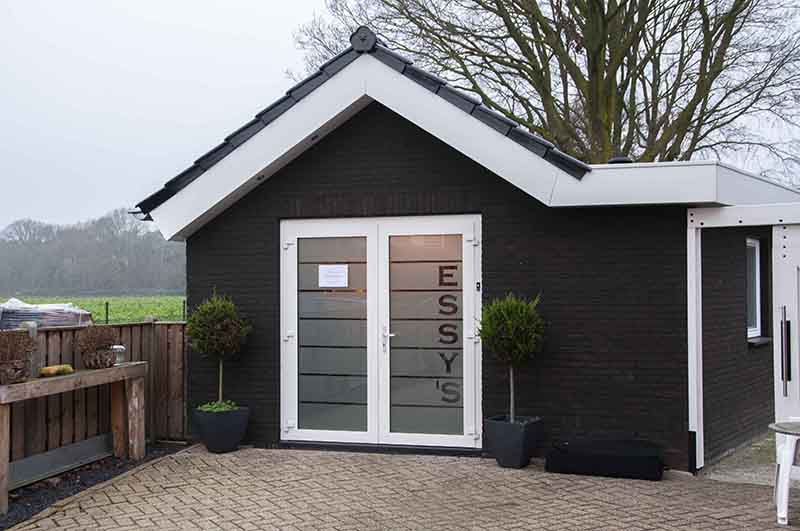 The lounge
Beauty salon Essy's Schoonheid in Steensel is a modern salon where personal attention is central to the treatments. She has tested and researched all of the treatments that Esther Maas offers in her salon to make sure they work and are safe.
Essy's Beauty represents Esther who is always called Essy. The salon is located in the Lange Reen in Steensel, in a very normal residential area. She had an outbuilding built next to her house for the salon. From the private parking space in front of the salon there is a view over farmlands with animals. Esther has managed to capture that atmosphere in her salon by decorating the interior with rural elements. Visitors are welcomed by Esther herself with coffee or tea.
In addition to the rural furnishings with wood and rope and many flowers, it is immediately noticeable that the salon has only one treatment chair. After all, Esther is a soloist and deliberately has no employees. "Customers come for me and have confidence in my way of working."
Owner 

Esther Maas

Started with a mobile salon for teeth whitening
Esther Maas obtained her diploma as a beautician at a young age, but chose to work in the hospitality industry for seventeen years first. Entrepreneurial and energetic as she is, she decided to start her own mobile teeth whitening salon ten years ago. Whitening is still one of her main treatments. "But I do that with products that do not affect the teeth and mucous membranes of the mouth. I don't bleach with hydrogen peroxide. I use the natural remedies of the Oolaboo brand. "

Salon and training center
She became increasingly convinced that she wanted to offer more beauty treatments and decided in 2017 to have a salon built next to her house. At that time she already had her own theories about beauty care based on her own experiences and research. In addition, she saw young beauticians coming from the training who had the ambition to set up their own salon. "But you only really learn the trade in practice, from experienced specialists and salons. That's why I help girls set up a salon. I have already written down my knowledge in training books and developed courses. So in fact I am also a training center. The students come from all over the Netherlands, but I have also helped someone with a salon in South Africa, Bulgaria, South America and Morocco.